OK, I'll admit that part of the trip was to scout out potential residences for when I move to Vermont in a year or two. Stowe-Waterbury was at the very top of my list. Wealthy potential dog training clientele and skiing nearby made the area worth a look.
I decided the back way around Mt. Mansfield through
Underhill
and
Jeffersonville
was the way to go. Who wants to drive on an interstate when there are winding roads to explore? I also wanted to find a nice
divey
breakfast place - the type of establishment frequented by construction workers with items like the "Lumberjack Special" on the menu. Well, I didn't see any. I bet they were all off the main road anyways.
I passed by my most
favoritist
ski area in VT, Smuggler's Notch. It's only semi-tourist oriented - most of the skiers there are locals. I continued up the narrowing mountain road to the notch itself. One time in the 80's when we lived there, my Pa, brother and I hiked down the now-closed Bear Pond Trail from the summit of Mt. Mansfield, where my Ma was waiting to pick us up. It's closed now because it was such a dangerous hike.
Har
!
I headed down to the Stowe Mountain Resort, an amalgamation of skiing, condos, and other outdoor fun-oriented stuff. I passed by and headed into the Village of Stowe for that breakfast I was craving, but still no dice. Everything in Stowe is fancy.
Back up I went to the Alpine Slide. Somewhere in my growing up I became a wuss, because I could hardly make it down the hill before the kids behind me caught up and almost crashed head on into my sled!
Anyways, I asked the women who sold me my ticket for the slide where I could get me some breakfast. They both simultaneously said the name of a place, which seems like a ringing
endorsement
to me!
View from the chair lift on the way to the top of the slide. That tiny building is Cliff House, my next destination.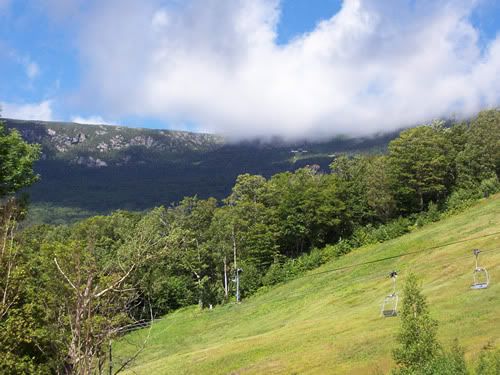 Heading up (lookit that weather)!
With the directions to my pancakes and home fries in hand, I headed to.......the gondola. Screw it - I was already on the mountain, and the 24oz. coffee tamped the appetite down a touch.
We skied from the gondola once when I was a kid. It's nice to be enclosed in a little capsule when it's cold and blustery outside. This day, it was hotter than hell. But the views were worth a little sweat.
This is the ski area. There are some incredibly intimidating trails on this mountain - seriously! Someone needs to teach me how to make mountains look as steep as they are in real life in a photo.
Starr, National and Goat ski trails
are up there somewhere!
At the top of the mountain, I got to see my old friend/nemesis Mt. Washington. It's where all those clouds are bunched together way in the distance. Mt. Washington attracts clouds like Congress attracts sex scandals.
At the bottom of the mountain, they're building a large condo complex, Swiss chalet style. It's quite nice, with its own chair lift across the road to the gondola.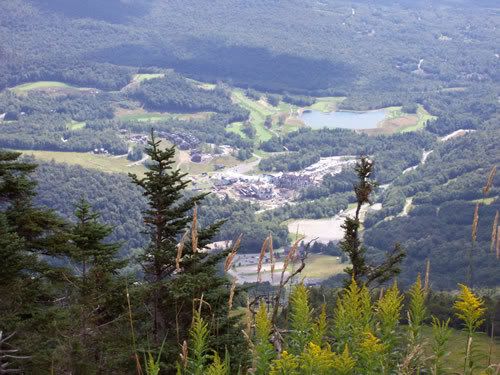 Ski trails:
Gondola with Smuggler's Notch in the background:
The "nose" of Mt. Mansfield, taken from Cliff House (the top of the gondola):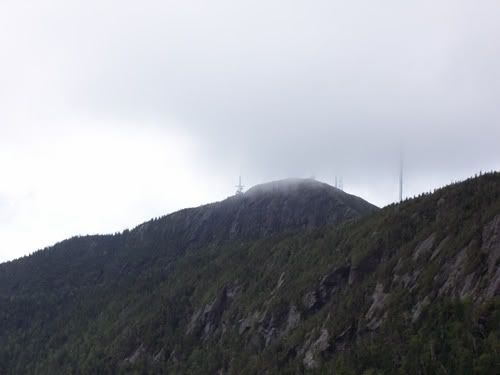 Cliff House, with a restaurant and warming room for skiers:
Looking to to Cliff House from the bottom of the gondola:
The views and cool air brought my appetite roaring back, so I headed down the mountain to the breakfast place that was recommended. It's nice to know that you will always get real maple
syrup
for your pancakes, ya know? Stuffed full of flapjacks, eggs and home fries, the only thing left to do was drive to Waterbury for some donuts. I made a quick call at Cold Hollow Cider Mill and got 6 apple cider donuts. If you've never had them, I suggest that they're worth the trip to VT in and of themselves.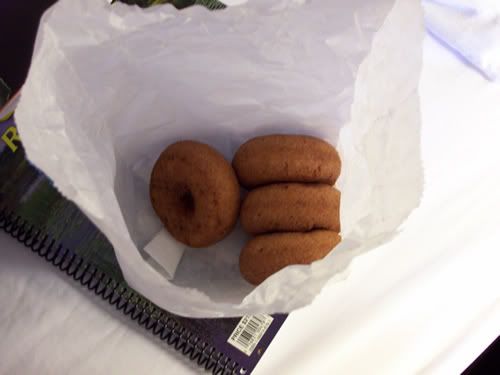 After a quick peek into Ben & Jerry's parking lot, I decided against the tour and headed back to the hotel for some quiet reflection in the garden. My thoughts lead me to whether Stowe was the place for me, and the answer was "NO!". Although quite charming and lovely, the area was very touristy and had the traffic to go along with it.
It looks like Jericho/
Underhill
will be my best option - rural yet close to Burlington, non-touristy and close to Smuggler's Notch and Stowe.
And that's pretty much it - I sepnt day 5 mostly relaxing, with a quick run to Waterbury for some more donuts to bring home. Day 6 was a marathon endurance run of a drive. I only stopped in Connecticut for gas, and made it home in 9 hours.